Our life without a refrigerator would be quite different – much more difficult. How would we store the products at home? I do not even want to think about it. And we will not. It is better to remember the coolest news of 2017, which will be relevant in 2018: made video and text. And we will be glad that the refrigerator in the kitchen is a usual thing.
LG SIGNATURE – superstar refrigerator
The LG LSR100RU is the premiere of the year 2017 in the refrigerator segment. Koreans literally laced the model from the collection of premium SIGNATURE technology with interesting technologies. To see what is in the refrigerator – it does not have to be opened. Just knocking on the door – it's getting light inside and everything is visible (electrochromic outer glass).
He also has an additional door to the main one – you can quickly and easily take out the products that are needed often, daily. All this contributes to the saving of electricity and the quality storage of products.
Refrigerator SIGNATURE LG LSR100RU. The cost is 500 000 rubles *
It's cool that even if you have hands full, you can easily open the door: you just need to touch the light projection on the floor next to the refrigerator with your foot. And the refrigerator compartment door will open itself.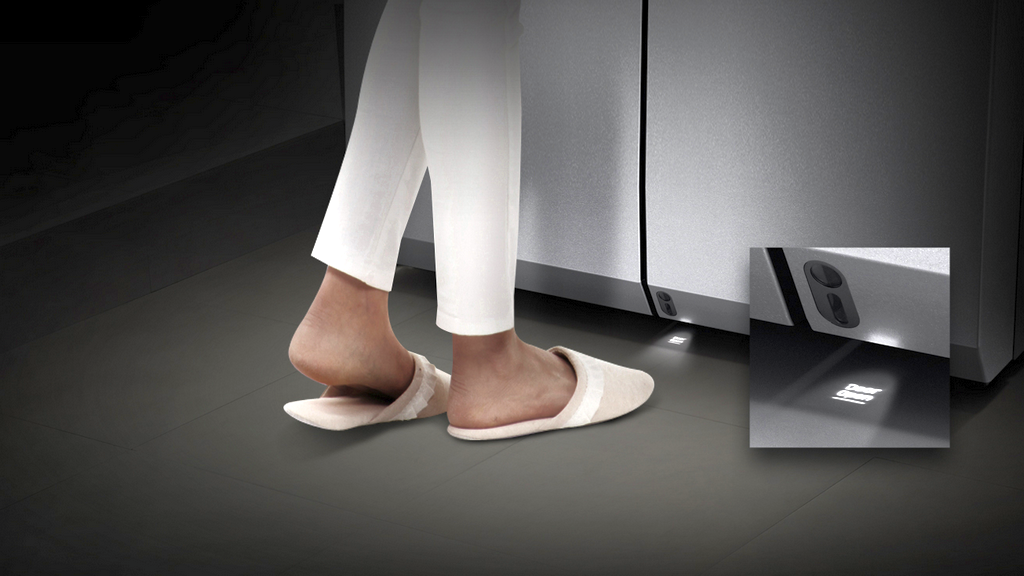 He also has a special container that can be used as a freezer or as a refrigerator compartment – to change the temperature. Plus a system of uniform air distribution and a filter for its cleaning – no unpleasant odors inside. Cherry on the cake (or on the refrigerator) – remote control from the smartphone.
The main characteristics of the LG LSR100RU:

– dimensions (H × W × D): 178.4 × 91.2 × 75.4 cm
– useful volume: 623 l
– cooling and freezing: No Frost
– compressor: linear, inverter
– energy efficiency class: A ++
– noise: 39 dB
– auto diagnostic Smart Diagnostics
– antibacterial door sealer
– holiday mode
---
* All prices are current as of the day of publication.
---
Samsung SpaceMax – more space
Main chip of Samsung RB7000 refrigerator enny inner volume at standard sizes. Now you have 410 liters of volume to store quality products. All thanks to renewed thermal insulation and thinner walls.
Multistream cooling brings cold to each shelf, and a special metal panel in the back wall of the refrigerator compartment is not only for beauty, but also for longer cold retention.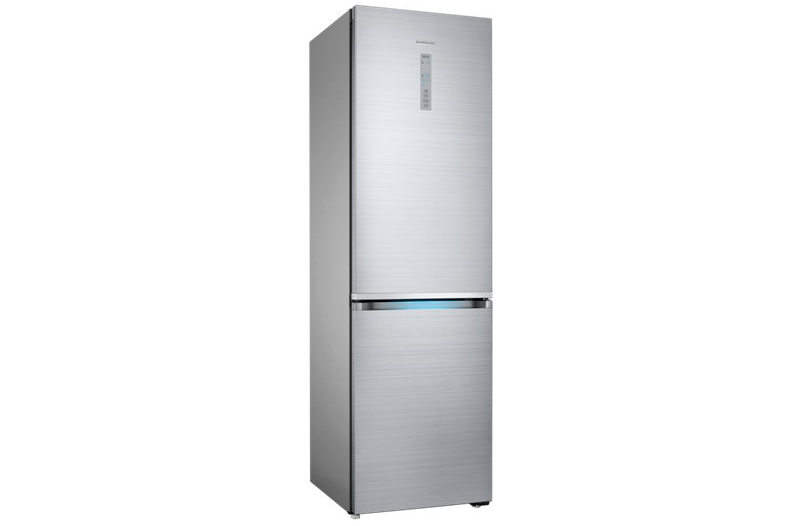 Refrigerator Samsung RB7000. The cost is 55 000 rubles
A fresh zone is provided for storing meat, fish and other products. There is a folding glass shelf – you can free space, even for large jars, pans. Plus convenient shelves-balconies on the door: they are rearranged the way you are comfortable – there are six options.
Korean design also did not disappoint – steel light fits perfectly with the soft blue backlight between the compartments.
Samsung RB7000 (RB41J7861S4 / WT):

– dimensions: (H × W × D): 201.7 × 59.5 × 65 cm
– useful volume: 410 l
compressor: inverter (warranty – 10 years)
– cooling and freezing: No Frost
– multi-thread cooling
– "Super Cooling" and "Superfreezing" modes
– noise: 37dB
---
See also : Technique for a healthy diet: Top 5
Subscribe to our special channel for Appliances: tests, surveys, reports. Expertly, not boringly, objectively.
---
Miele K 20.000 – for your art
The refrigerator is the main kitchen equipment. Where else, no matter on it, leave messages to the home or representatives of other worlds (this is who to whom). Now you do not have to put paper on the fridge, you can draw right on the refrigerator, if it's Miele K 20.000 Blackboard edition.
Its front panel is made of special glass, on which you can leave messages and art – use chalks or chalk markers. [19659005]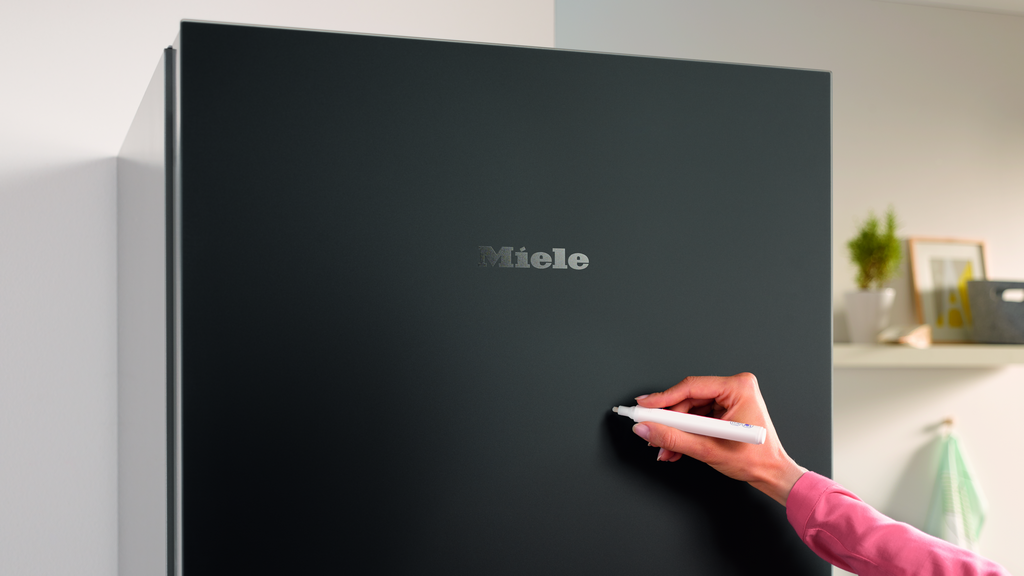 Refrigerator Miele K 20.000 Blackboard edition. Cost – 150 000 rubles
Of course, about technology, too, should not be forgotten – a refrigerator, primarily for storing food. The Germans also thought that there should be plenty of space in the refrigerator and increased the volume, keeping the standard sizes.
There is a freshness zone with automatic temperature control (from 0 ° C to + 3 ° C) and humidity for storing meat, fish, dairy products. They, according to the manufacturer, are stored up to three times longer, and vegetables in general up to five times.
Note also the modern LED lighting. It seems that you will not surprise anybody. But in the refrigerators Miele K 20.000 lighting is tied to the shelves – many of them have individual lighting. And at the same time they can be rearranged in height – this does not limit the variability of the internal space.
Main characteristics Miele K 20.000 Blackboard edition ( KFN 29283 D bb):

– dimensions (H × W × D: 201 × 60 × 68.5 cm
– useful volume: 343 liters
– energy efficiency class: A +++
– cooling: drop system
– freezing: No Frost
– noise: 39 dB
– Super Cooling and Superfreezing modes
– Holiday mode
---
See also: Overview of steep grills for a delicious steak
---
Bosch NatureCool – natural storage

---

59004] Other Germans from Bosch began in 2017 to sell refrigerators in Russia with so-called natural cooling and storage. The cooling circuit is integrated in the walls, there is no fan for forced distribution of cold air, there are no metal elements inside the chambers.
All this minimizes the airing and drying of products, increasing shelf life. Plus the hoar frost does not intend on the walls of the chambers and on the products themselves – these refrigerators and must be thawed less often.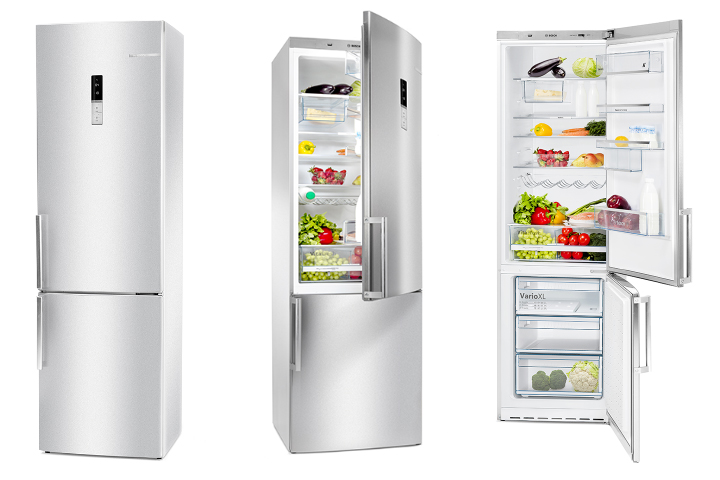 Refrigerators Bosch NatureCool. The cost is from 26 000 rubles
Containers with humidity regulation are provided for storing fruits and vegetables. Still, we note that the developers investigated Russian products (in particular, packaging) and developed the internal space of the refrigerator taking into account our realities.
Daniil Golovin, expert Chudo.tech:

In these refrigerators there is one funny moment. I call this "reverse marketing". The fact is that "NatureCool – Natural storage" is, in fact, the absence of auto-defrost and multi-threaded distribution of cold air. But in the last few years, these technologies have been considered a plus. This funny "fiddling ears" of marketers Bosch, however, is not a fraud: the products in such conditions and really less weathering, dry, even if you store something unpacked, not in a special container.
Inside the Bosch NatureCool model is very variable – you can, as they say, adapt the refrigerator to your needs, make it as convenient as possible.
By the way, these German refrigerators, in fact, domestic ones – are produced at the Bosch plant near St. Petersburg. We were there and shot a story about how they are produced. Look – it's interesting .
Key Features Bosch NatureCool (KGE39XL2OR):

– Dimensions (H × W × D): 201 × 60 × 63 cm
– Useful Volume: 351 L
– energy efficiency class: A +
– two cooling circuits
– cooling: drop system
– defrosting: manual
– electronic control
– noise: 38 dB
– modes "Superfreezing" and "Super Cooling"
---
Read also: Top 5 air purifiers.
---
Liebherr – freezers for any weather
The main news of 2017 in the segment of freezers also came and Germany. Liebherr made the upgrade of the freezers by "teaching" them to work even at outdoor temperatures down to -15 ° C.
That is, in the freezer you set the desired temperature for long-term storage of products: it will be maintained – this is as usual. It's unusual that now the freezer can stand and work even in unheated rooms: on the balcony, veranda or terrace, even in the basement.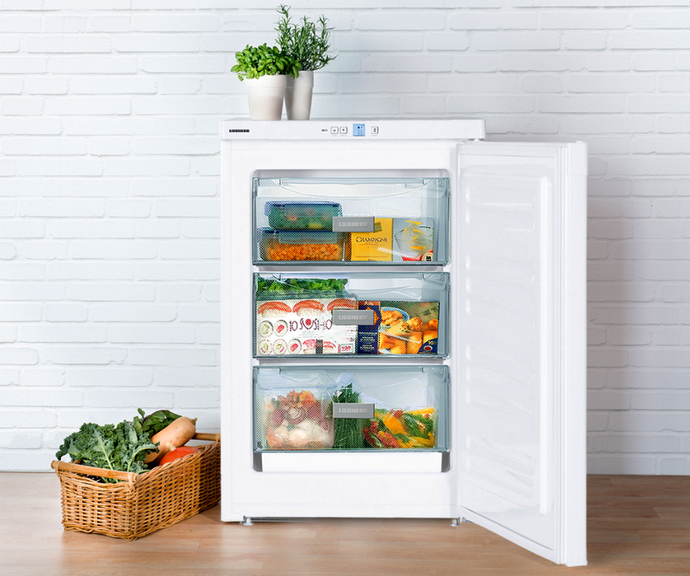 One of the new freezers Liebherr. Cost – from 13 500 rubles
It is no longer necessary to gain space and, in the end, from a hopelessness to clutter the entrance hall with a freezer. Place wherever you want. In addition to this possibility, freezers can boast of updated electronic control, as well as a thoughtful solution of the interior: you want – store the products in drawers, you want – just on glass shelves. You can even pull out everything from the freezer if necessary.
The main characteristics of the new Liebherr freezer models:

– height: 63.1 to 164.4 cm
– useful volume from 68 to 224 liters
– number of withdrawable containers: from 2 to 7
– freezing capacity: 8 to 28 kg of food in knocking
– defrosting: automatic
– energy efficiency class: A + or A ++
---
Where to put the freezer? Layfherk from Liebherr.
---
Trends of the year
There is more space for storing products while maintaining the standard dimensions of the refrigerator, the variability of the interior space – so that the user can model it based on their own needs. This is a very noticeable trend in the "refrigeration" in 2017.
Producers continue to improve and energy efficiency of refrigerators. Noticeably, the development of technologies that increase the shelf life of products. In addition, refrigerators are becoming smarter. We are sure that in a few years the possibility to look into the refrigerator from the smartphone or to change any settings in it remotely will become commonplace.
---
See also: TOP-5 of the best vacuum cleaners of 2017
---