The New Year without gifts is like a wedding without "bitter". There is an opinion that to give household appliances – moveton. But we do not think so, especially since despite all such conversations, she is always among the popular gifts for the holidays. In this collection – steep and useful devices for the house: different purposes and at different prices.
---
All prices in the material are current on the date of publication .
---
1. Inexpensive robotspileos
Everybody is used to the fact that a robot vacuum cleaner is not a cheap pleasure. And if you can buy it inexpensively – it's some Chinese "no name". But this year the robot novelty of the famous brand for quite digestible money appeared on sale. Scarlett SC-VC80R11 and SC-VC80R10 differ only in color – silver and black respectively.
Robots vacuum cleaners Scarlett SC-VC80R11 (silver) and SC-VC80R10 (black). The cost is about 8,000 rubles
The vacuum cleaner is small in size, which allows you to clean even under furniture. Conveniently, the user did not "fool" a variety of cleaning modes – just press "on" and he goes to clean. It is intended for cleaning of various floor coverings, including carpet (but not long-haired). The battery lasts for 60 minutes, there is protection against falling from a height, a soft bumper protects furniture from damage. Dry and light wet cleaning is possible.
Daniil Golovin, expert of the project Chudo.tech:

<br /> <br /> <br /> <br /> <br /> <br /> <br /> <br /> <br /> <br /> <br /> <br /> The household appliances – But we do not live by one romance. Friends, I'm sure, will be happy with the robot vacuum cleaner or electric grinder. In the family for the New Year you can buy a cool washing machine, if the old is time to change. A humidifier in the bedroom or a vacuum cleaner for dry and wet cleaning is also great. Sports will like a fitness blender, and the razor is a classic of the genre (especially, the collector's – generally the delight). In general, we picked up gifts for different festive occasions.
2. Advanced air humidifier
In our apartments, especially in winter, a very low level of humidity is bad for health. This year, Electrolux released a very interesting ultrasonic model EHU-3810D YOGAhealthline – a multifunctional climate device with extensive capabilities.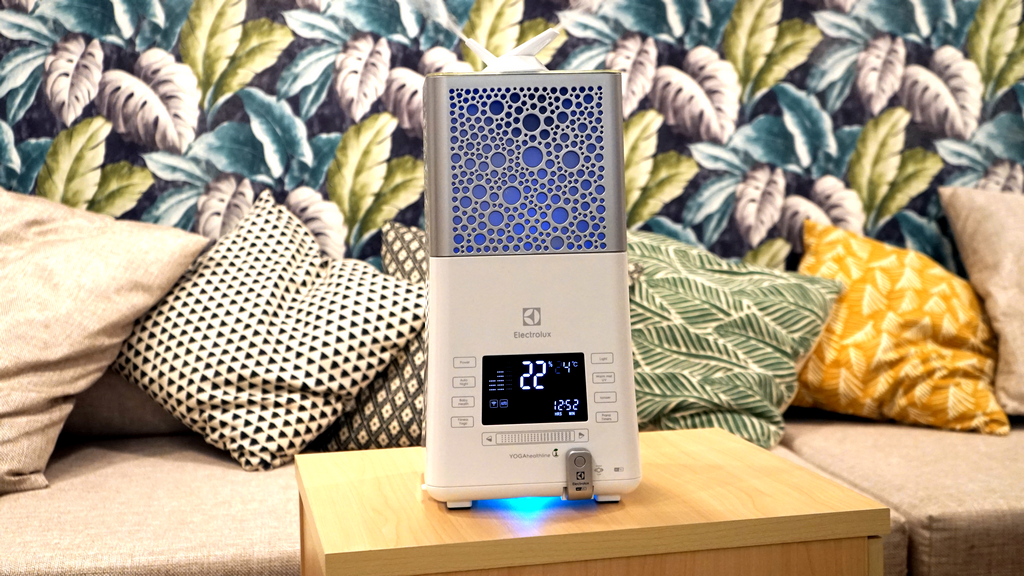 Humidifier Electrolux EHU-3810D YOGAhealthline. The cost is about 11,000 rubles
YOGAhealthline has a specialized mode of air humidification for sports, for yoga and meditation. And for working in the children's room, night, for allergy sufferers and automatically maintaining the optimum humidity in the room.
There are 20 different modes and 10 functions, including special relaxation lighting, alarm mode, optimization of correlation with the motion sensor and control with smartphone from anywhere in the world. Productivity – up to 550 ml per hour. Water tank – 6 liters. The humidifier for a room of up to 50 m² is calculated.
The YOGAhealthlin Electrolux EHU-3810D humidifier can be equipped with a motion sensor and a Wi-Fi module
---
See also: Top 5 steep humidifiers for the winter
---
3. Available "stilalka" with cool features
Previously, washing machines with the same set of features as that of Hansa WHP8141DBLS, cost, at least, thousands of 60. And this year it was possible to purchase a model with a very good set of useful functions much cheaper.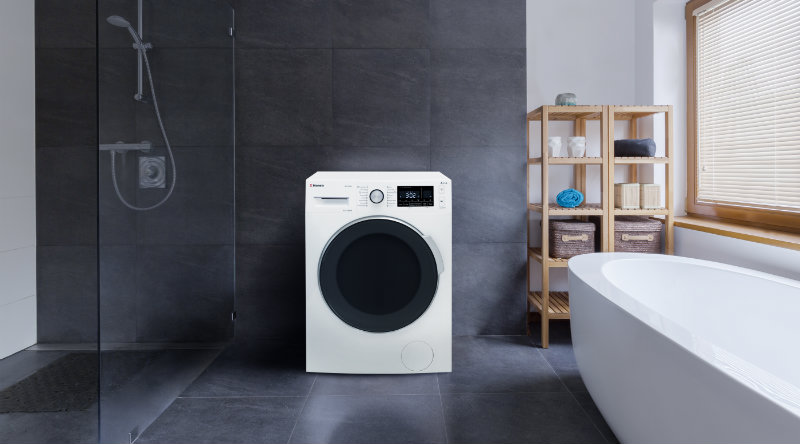 Washer Hansa WHP8141DBLS of the ProWash series. Cost: about 27,000 rubles
The main feature is an auto-dosage of liquid detergent, depending on the degree of loading and the program selected. Here we also include the steam washing regime, which can be activated with many programs. Plus, you can set the duration of the wash – choose after how long the process should be completed and the machine optimizes the cycle to meet the deadline.
You can still choose the degree of garment contamination (three of them), which also serves to optimize the cycle – for better washing results. The Add + option allows you to add things to the car, if you forget to put them, even after a long time after the start of washing (but better – no later than 30 minutes). The depth of the washing machine Hansa WHP8141DBLS is 47 cm, which allows it to be carried to narrow ones, while loading is up to 8 kg.
Hansa washing machine WHP8141DBLS: with detergent dosing automotive and the degree of contamination of things
4. The electric grill for delicious steaks
Another novelty of the year is the Bosch electroplate elbow TFB4431V. It has everything you need from a modern grill. The format (two-way contact) allows you to prepare a variety of products, including beef steaks. High power – 2 000 W – provides fast and high-quality roasting.
Work plates with non-stick coating – removable (this facilitates the care). Excess fat, oil, drain into a special removable tray – dishes are more useful: even those who lead a healthy lifestyle will be able to cook something delicious. There are settings for the heating level for the top and bottom surfaces, which ensures the variability of cooking different dishes.
Bosch electrochromic TFB4431V. The price is about 9,000 rubles
The novelty has several positions of the working surfaces: the lid is closed (double-sided contact grill), installed above the bottom surface (for burgers, sandwiches, etc.), opened 180 degrees – barbecue area. There is a baking sheet in the delivery set. There is also a "younger" model – TFB4402V – without separate temperature adjustments of surfaces, it costs cheaper (about 6,000 rubles).
---
Read also: Five steep grills for a delicious steak.
---
5. Universal Grill Toaster
Hotpoint this year introduced a grill that looks very similar to a toaster – VG 120 GHX0. Actually it can be used as a toaster – to fry a piece or two of bread on both sides. But according to the manufacturer, this compact novelty is suitable for other culinary tasks.
Universal vertical grill Hotpoint VG 120 GHX0. The cost is about 8,000 rubles.
A special grating in which products are placed, is inserted into the device vertically, heating occurs from two sides (power – up to 1300 W). Conveniently, it is possible to adjust the intensity and heating time. To cook in such a grill toaster, you can have a wide variety of foods, from the already mentioned toasted bread, to meat, fish or vegetables. Crumbs or fat will be in a removable tray.
---
See also: Will an inexpensive steak grill cook correctly? Answer in our video test.
---
6. Blender for sport and home
A healthy lifestyle is in vogue. Manufacturers of equipment are tightening up – they are releasing devices to help HLS-nicks. Electrolux this year began selling a universal blender ESB 2900 – it is suitable for fitness fans, and a housewife in the kitchen will help.
Plastic cups in which grinding and mixing products (smoothies, protein shakes, etc.), You can take it to the gym. You do not need to pour – just change the knife-chopper to a regular cover. In a set of two fitness glasses. Plus the battery is cold: if it is inserted into the glass, the contents stay cool and fresh longer.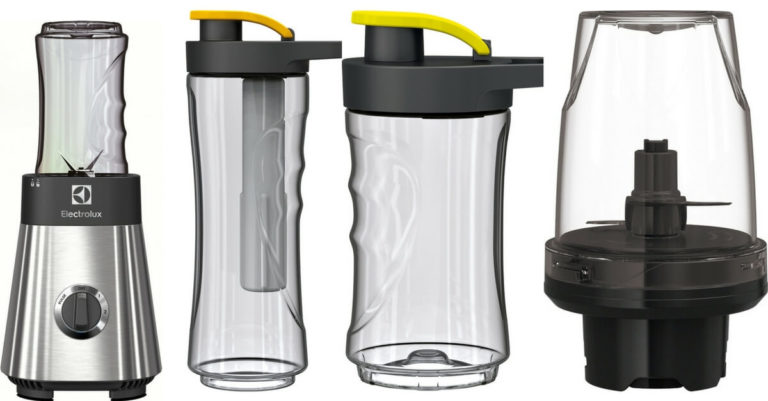 The Electrolux ESB 2900 blender. The cost is about 9,000 rubles
The blender is supplied with a 0.6 l capacity grinder, as well as a grinder nozzle – grind coffee , other solid products. Two speed and pulse mode. Power – 300 watts (enough for processing different products, but we would not recommend ice to stick).
7. Razor for fans of "Star Wars"
What New Year without a razor as a gift? Since the days of Ryazanov's "The Irony of Fate …" it is known – no. Since 1976, when this movie was first shown on TV, many years have passed, and the razor is all in the top of New Year's gifts "for him." This year, especially lucky lovers of the endless Hollywood saga "Star Wars", the first film which, incidentally, was released only a year later – in 1977.
It is precisely the fortieth anniversary of the endless space film history devoted to the collection of Philips Star Wars Special Edition rotary razors. Of course, she has not only a design in the style of "Star Wars", but also many useful technologies for comfortable shaving.
Here you and specially designed self-sharpening blades V-Track Precision PRO – their whole 72 and they manage to make more than 150 000 slices per minute, which speeds up the shaving time. The shaving system is adjusted to the contours of the face – the heads move in 8 directions. The novelty is suitable for dry and wet shaving, the battery charge lasts for 60 minutes of operation.
Note that the jubilee series includes several models at different prices, which differ in the configuration and some technical characteristics. In addition to the top Philips SW9700 / 67, there are also SW5700 / 07 for 8,490 rubles, SW6700 / 14 will cost 11,990 rubles, and SW7700 / 67 costs 16,790 rubles.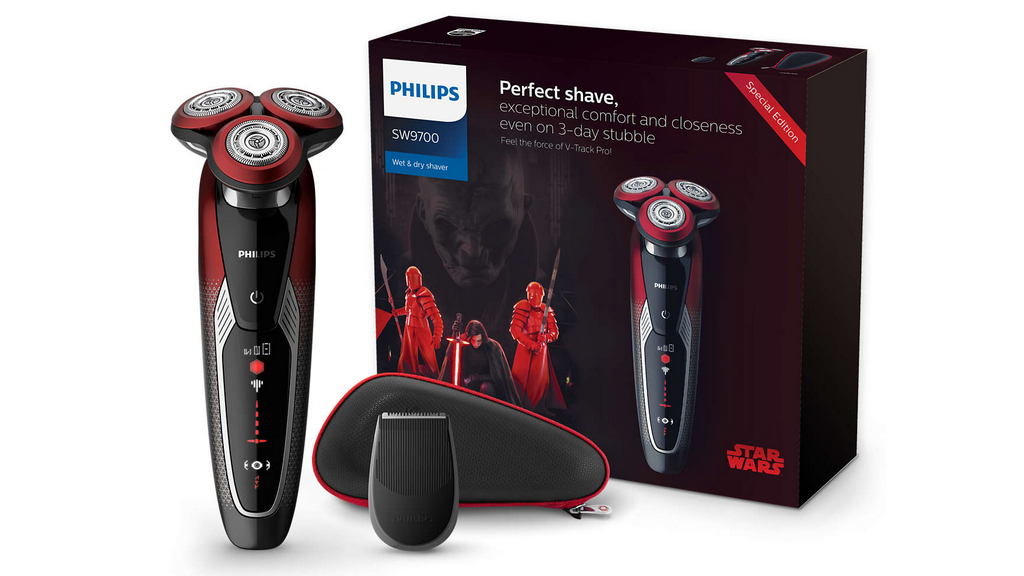 Philips SW9700 / 67 – the top razor from the collection of Star Wars Special Edition. The cost is about 21,000 rubles
8. Smart garden for lazy gardeners
Many people want to "something green" at home or in the office, but lack of horticultural skills, a lot of workload, and sometimes just laziness – interfere. The solution is smart garden Click and Grow: everything grows on its own. Just install cartridges with plant seeds and a mixture for their growth (the so-called nanogrunt), a lamp, pour water into a special tank and plug it all into a power outlet.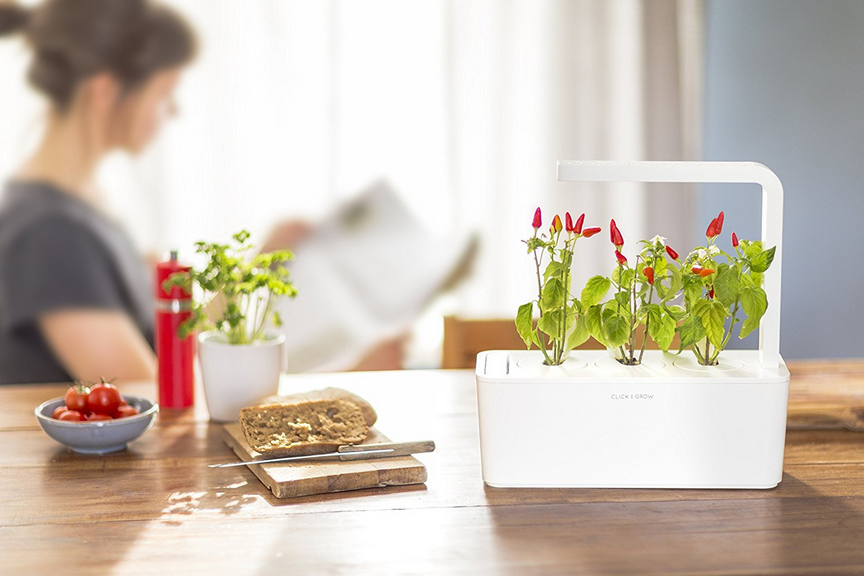 Smart Garden Click and Grow. Cost – from 4 200 rubles
After a while (depending on the type of plants), you on the office desk or on the kitchen sill will turn green, and then bloom something like that. Cartridges with seeds are many: flowers, berries, various edible greens (basil, thyme), vegetables. Sell ​​and ready-made kits with one or different plants.
Click and Grow works without your participation – you just need to periodically pour water into the tank. The amount of moisture is accurately dosed, based on the needs of plants. The daylight lamp is height adjustable and automatically turned on, providing a long "day" and turning off for a few hours a day. The cost depends on the smart garden model and the number of cartridges and starts at 4,200 rubles.
Click and Grow are different plants at home or in the office. Only pour water into the tank
9. Vacuum cleaner poloter for double cleaning
We started our selection with a robotic vacuum cleaner, and finish with a vertical one. The main feature of the new Karcher FC5 is a simultaneous dry and wet cleaning. You just need to pour water or a washing solution into the special tank and you can start: the vacuum cleaner will collect dry debris and wipe the floors (intended for hard coatings, not for carpet).
Washing solution is fed to two rotating rolls with a microfibre coating – they simultaneously collect rubbish and wipe the floor. Dirt, together with moisture, is sucked into the removable box by a vacuum cleaner. After cleaning, simply wash it, if necessary, the container and the elements of the filtration system can be washed in the dishwasher.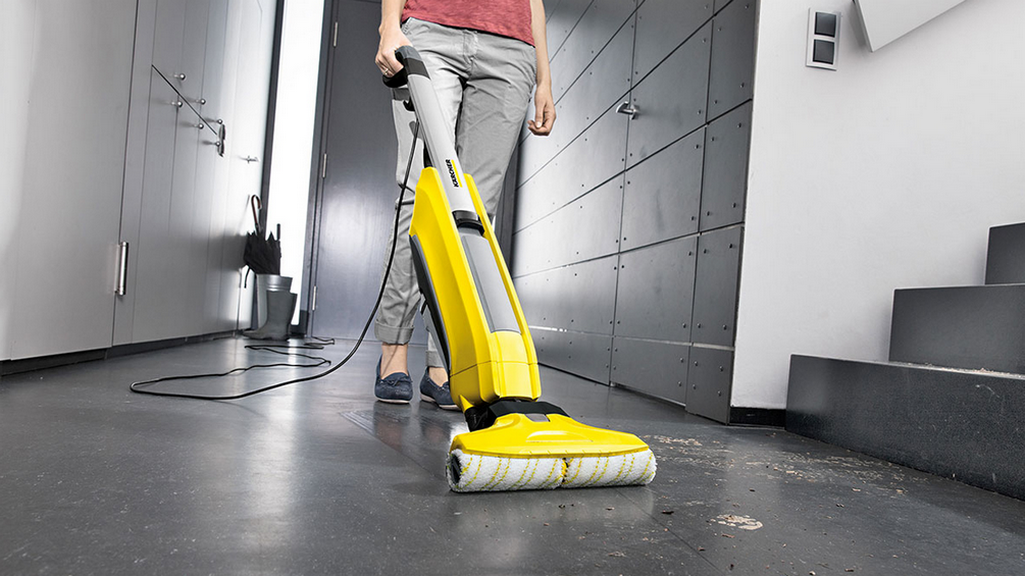 Vacuum cleaner-polisher for dry and wet Karcher FC5. Cost – from 14 000 rubles
Rollers with microfiber are cleaned in a special parking pallet (simply turn on and they are fed with water). In addition, they can be washed – in a washing machine. There are two complete sets of Karcher FC5 (one with spare rollers) and two colors – black with yellow and black white.
10. Iron for lovers of freedom
If you are certain that the iron for the New Year is an actual gift (well, he needs a friend and a point), then give an unusual gift. For example, Polaris PIR 2489K Cordless. It's wireless: to quickly iron out in this mode some simple things in ironing – you can use it autonomously for up to 40 seconds and then recharge for 5 seconds (there is an indication of the degree of charge).
It's cool that the user is left with a choice – when the wireless mode is inconvenient , then you can use this iron as usual – with the wire connected directly to it, and not to the base charging station. Power – up to 2 400 W. There is a regime of constant steam with an intensity of up to 35 g per minute. Steam impact is 150 g per minute. There is also a function of vertical stripping.
Iron Polaris PIR 2489K Cordless. The cost is about 4 500 rubles
Sole – cermet. A special shape of the nozzle, which facilitates ironing of "difficult" clothing, a hole for filling a fairly large diameter water (2 cm). Externally, the iron is also quite cute – a combination of dark and light violet shades, modern forms. Convenient handle with a rubberized surface: an open type with a wireless format and closed when used with a wire.
---
See also: What can an expensive iron with a steam generator? Answers in our video.
Subscribe to our

special channel

about home appliances: tests, reviews, reports from exhibitions. Not boringly, expertly, objectively.
---
Chudo.tech recommends
In advance, find out from friends and relatives – what a gift they will be pleased to get for the holiday. Cool, when you find under the tree is exactly what you want. After all, it's not at all a fact that someone who has been looking at a robot vacuum cleaner for a long time needs a fitness blender or an iron, even a fashionable wireless.
Modern and high-quality household appliances are useful for many. But still, it's nice to receive as a gift exactly the device that I wanted for a long time, but the purchase, for whatever reason, was postponed.