You will not surprise anybody with a wireless upright vacuum cleaner. Such models have been in shops and fashion for several years. But are they getting better? They figured out what a modern, outwardly sporting model – the Hoover Athen ATV252RM 0190 – is capable of. A super design is great, but how is it with the quality of cleaning and with convenience? We made a video and text, where we answer this question.
---
Video version of the test. Vacuum cleaner, disassemble, shake out the garbage, evaluate the convenience and cleaning:
---
The main thing about Hoover Athen ATV252RM
Hoover Athen – relatively inexpensive wireless vacuum cleaner, costs about 8,000 rubles *. This is important: not everyone can afford a "thing" for 20-30 thousand (there are many such in shops), so it is doubly interesting to check – what a vacuum cleaner can do for "sane" money.
---
* Price information is current as of publication date .
---
Hoover Athen ATV252RM is a rechargeable vertical vacuum cleaner with a motor unit at the bottom. There is also a dust collector. A removable vacuum cleaner is not available – the model is designed only for floor cleaning.
Vertical battery vacuum cleaner Hoover Athen ATV252RM
The vacuum cleaner is quite large for vertical models, a dust collector – 1 liter. This is explained, among other things, by the lack of a detachable "small" vacuum cleaner. Turbo brush motorized, with LED backlight in front – to better see the debris. True, it only works from the second power level.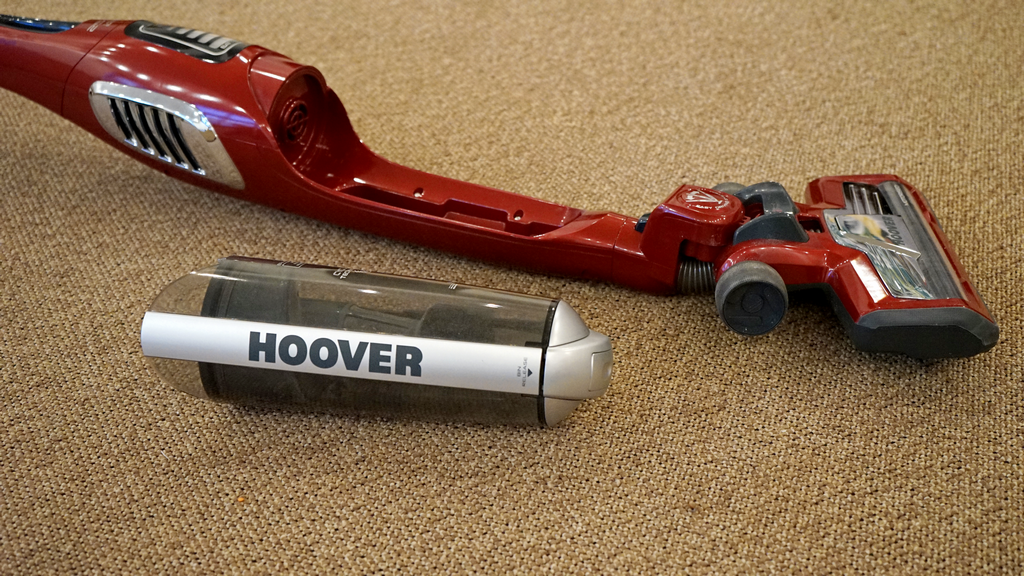 Hoover Athen ATV252RM. The volume of the dust collector is 1 liter
The total power level is three. The lithium-ion battery allows to work up to 60 minutes at the minimum power (it is used for cleaning the hard floor), at the second level (cleaning the carpets) the vacuum cleaner will work for about 30 minutes, and in turbo mode – about 10 minutes. We established these values ​​by experience. The total battery charge time is about four hours.
Hoover Athen ATV252RM. Mode switching slider and battery level indication
The cyclone is used in the vacuum cleaner, the main filter is EPA E10. It is a filter for fine air purification, but not the most sophisticated one – it retards about 85% of fine dust.
Below is information on the efficiency of air purification, in comparison with other modern filters used in vacuum cleaners and air cleaners.
Hoover Athen ATV252RM:

– wireless vacuum cleaner with vertical parking
– three power levels
– operating time: up to 60 minutes
– lithium-ion battery
– charge time: 4 hours
– cyclonic waste screening technology
– main filter: EPA E10
– volume of the dust collector: 1 liter
– weight: 3.1 kg
– noise: up to 75 dB
– cost – about 8,000 rubles
– country of origin: China
Test results
The only thing that did not cause doubts – this is design. He liked the entire edition. But the rest is not so unambiguous.
In the context of convenience, there are disadvantages: heavyweight (weighs more than three kilograms), rather "pot-bellied" motor unit with a dust collector can not always be removed in hard-to-reach places – under the closet or bed. And it's noisy at maximum power: about 75 dB is like a loud laugh or cry.
Hoover Athen ATV252RM. Measuring noise and checking cleaning in hard-to-reach places
There are also pluses: turning the brush by 180 degrees adds maneuverability when cleaning, plus lighting – it's easier to spot something important on the floor, for example, a lost ring or earring. Cleaning the brush is easy.
---
Five last year's top vacuum cleaners, up-to-date and in 2018:
---
Vertical parking is generally obvious convenience (especially in comparison with models in which the engine is at the top) – where left, there and there .
The voluminous dust collector, on the one hand, hinders a little, but on the other – a significant advantage: rarely need to pour out the trash, less pauses in cleaning. And it's not hard to devastate it, We'll add here an ergonomic rubberized handle and quite convenient control.
As for the quality of cleaning, it is not bad, but not perfect. If there is a lot of garbage – the brush pushes a small part of it in front of itself.
---
Read also: Why pay 100 000? Air cleaner test with huge filters
---
When cleaning the hard floor due to the fact that the roller with the bristle does not rotate, the suction of garbage is difficult – much remains under the nozzle: you need to make extra efforts and spend more time on cleaning. In some situations, garbage from the vacuum cleaner spills out.
It's good that there is a fine air purification filter. But still, we would not recommend this model to allergy sufferers – there are models more advanced in this regard, with more effective filters.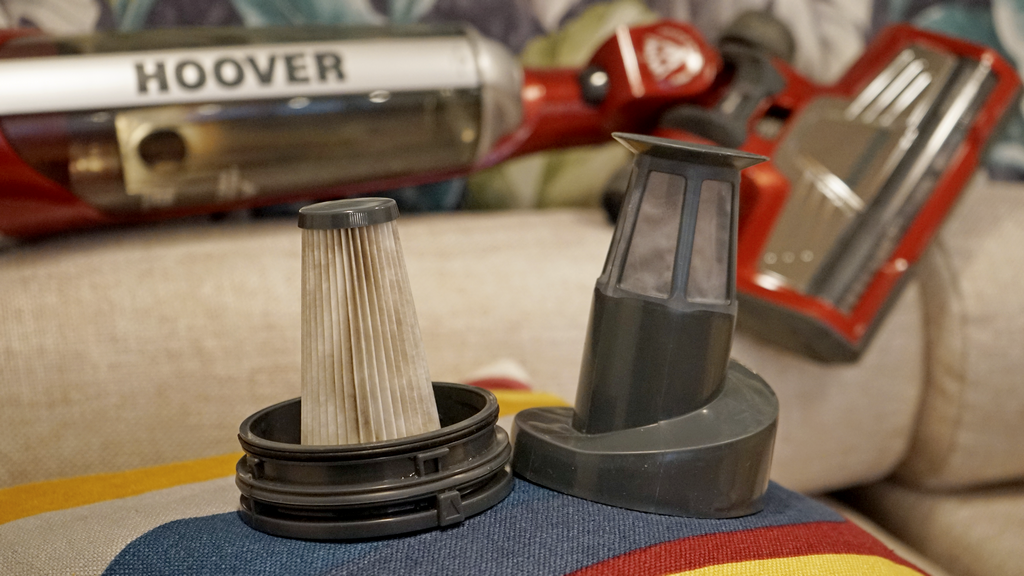 Hoover Athen ATV252RM. Main filter EPA E10 (left) and cyclone chamber with screen filter (right)
Verdict Chudo.tech
The only five among the ratings of this vacuum cleaner is for design.




For convenience and for cleaning quality, we put a vacuum cleaner on four points . Moreover, under the item "cleaning", although Natasha Kashentseva regretted Hoover, the dissenting opinion of the editorial staff – the four with a stretch. The final score for the test is 4.3.

The vacuum cleaner saves a relatively low price, a long working time and a large dust bag.

We recommend not to use it as a basic vacuum cleaner in the house, but as an auxiliary, for a quick cleaning, kitchen buckwheat or in the living room before the arrival of guests, for daily maintenance of cleanliness, it will do. If there is a need for this, take it.
---
What can a real "Chinaman" do? Test of the vertical vacuum cleaner Midea VSS01A14P:
---
Subscribe to our special channel about home appliances. Tests, reviews, reports about the novelties: expertly, objectively, not boringly.