A healthy way of life (HLS) is cool and fashionable. Thousands quit smoking and, as they say, get on skis. Producers of home appliances realized that this could earn and began to produce and position many devices – as devices for a healthy lifestyle. This year the segment actively developed, became popular and interesting. Among the set of "healthy" novelties, we chose the top five: they appeared on sale in Russia in 2017 and will be relevant in the next year. Watch the video and read the text version.
Stove
Panasonic
–
steam, convection, auto recipes
The Japanese introduced a real HELL oven in Russia in 2017. It can be a steam cooker, a convection oven or all at once – cook with convection and steam. Three modes of steam – small, medium and large. Four modes of convection: fermentation, roasting, baking with steam and healthy toasting (without oil). A wide range of temperatures (190-230 ° C) is available. Cooking is possible at once on two levels.
Panasonic NU-SC101. The cost is 26 000 rubles *
Presence of automatic recipes and auto-cooking programs of different products and dishes makes it possible to cook in it not even very skilful chefs. The oven is compact, the volume of the working chamber is not very large – 15 liters, but the chicken will fit entirely. Electronic control with rotary control. The set includes two baking trays, two grills and a cookbook as a gift. The price, however, bites: the Japanese obviously take money not only for equipment, but also, as usual, "for the brand."
The main characteristics of the Panasonic NU-SC101:

– power: 1230 W
– maximum temperature : 1945 ° C
– Dimensions (W × W × D): 35.5 × 35.1 × 45.5 cm
– Volume: 15 L
– Water container: 300 ml
– weight: 10.8 kg
– double-pane glazing of the door
---
* All prices in the material are valid on the date of publication .
---
Blender
Electrolux
–
for fitness and for the home
It's convenient when I made a smoothie or a protein cocktail and, I went with him to the gym, to work or to run. So you can do with the new Electrolux – a fitness blender ESB2900. In a set of three plastic cups (two 300 ml and one 600): just change the lid with a knife-chopper for the usual and all the cases – carry a useful yummy where necessary. A stick – a cold battery – will help keep the contents cool and fresh.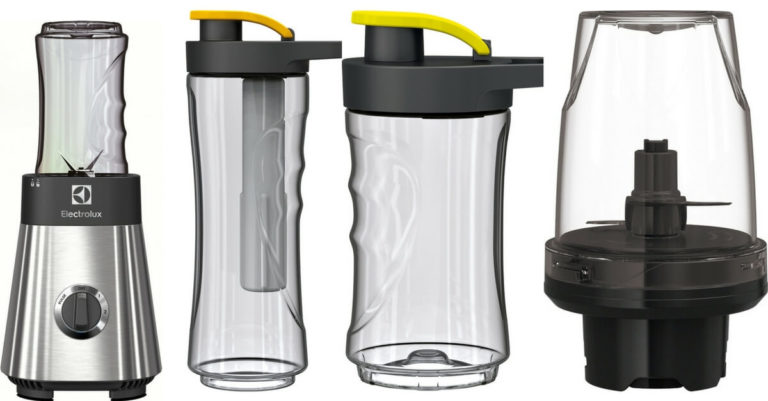 Electrolux ESB2900. The cost is 9,000 rubles
Also, a shredder (0,5 l) is supplied with a blender, so you can add nuts in smoothies and cocktails, and in general for home cooking it will come in handy. Included in the kit and grinder (coffee grinder) – even more versatility. The speed of work is two. There is a pulse mode. The power of this compact and cute blender is 300 W: the ice in it is not to be crushed, but the rest will do it. Budget blender, too, can not be called. Extra charge for a healthy life style, apparently.
Main characteristics Electrolux ESB2900:

– power: 300 W
– two speeds of operation
– pulse mode
– body: stainless steel and plastic
– impact-resistant glasses and chopper
– plastic cups and chopper without bisphenol A
– lids of glasses with handles – convenient to carry
---
See also: TOP-5 of the best air purifiers.
---
Microwave Samsung – with aerogrill
There is a misconception that eating a microwave is harmful. This is not true. Moreover, due to the absence, for example, of contact with boiling water (as in cooking), there is a noticeable increase in vitamins and nutrients in foods. Koreans in 2017 supplemented the already "healthy" device – microwave oven – with an aerogrill as well, which brought it right into the segment of healthy HV-technology, and also allowed to get into our TOP.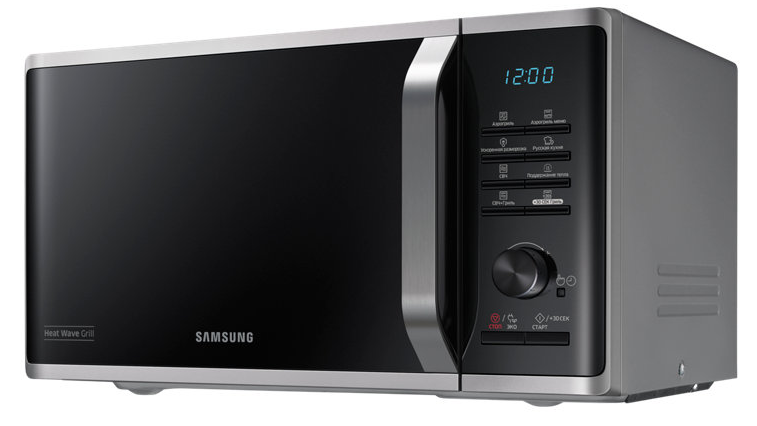 Samsung MW3500K ( MG23K3575AS). The cost is 11 000 rubles
In the microwave Samsung MW3500K, in addition to the function of aerogile, which allows you to cook completely without oil or with its minimum, there is an interesting mode that briefly prolongs the preparation of dishes and "organizes" a mouth-watering crust (the grill turns on) .
Another oven can keep the dish warm, defrost and cook the dishes of world cuisines with the help of auto recipes. Bioceramics inside the working chamber make the use more hygienic and simplifies cleaning.
The main characteristics of Samsung MW3500K:

– the volume: 23 l
– the maximum power – 2300 W
– the power of microwaves – 800 W
– six power levels of microwaves
] – grill power (TEN)
– 15 auto programs for aerogrie
– dimensions (H × W × D): 27.5 × 48.9 × 39.2 cm
– weight: 13 kg
---
] Read also: TOP-10 useful New Year gifts.
---
Hotpoint set for "su-kind" – at home, like in a restaurant
Have you ever tried a dish cooked by the "su-kind" method – in vacuum packing, at a low temperature (up to 90 degrees)? In good restaurants they are now fashion. If not, try it. Dishes are obtained not only useful (gentle heat treatment – useful substances are better preserved), but also very tasty – because vacuum packaging preserves all juices and flavors.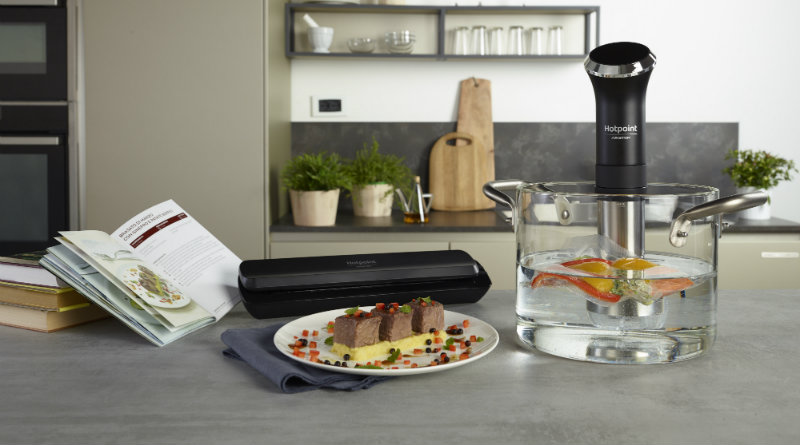 Hotpoint SV GHX0 VS GHB0. The cost is 15 000 rubles
Hotpoint SV GHX0 VS GHB0 is a set that allows you to pamper "su-kind" watches of yourself and your pets more often. It includes a precision immersion heater-thermostat (warm water) with a capacity of 1300 watts, a vacuum and a book with 50 recipes for a healthy diet. Electronic control of the heater allows you to control the cooking time and temperature. It will signal when the dish is ready, and turn off if it "feels" that there is not enough water.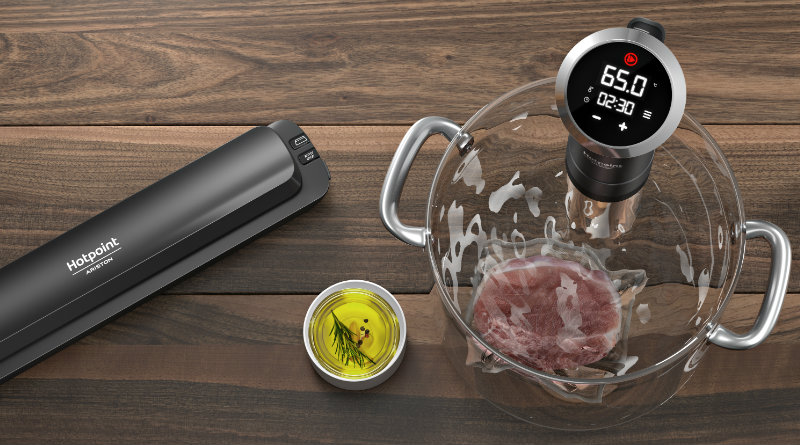 The price for such a simple, in general, device (even two of them) is certainly not very humane . But the thing is fashionable, so for now. Most likely, during 2018, we should expect the appearance of such sets from competitors (the Chinese have made them for a long time, they simply did not meet in our market), which may well lead to a price reduction.
The main characteristics of Hotpoint SV GHX0 VS GHB0: [19659011] – power: 1300 W
– universal fastening to dishes
– automatic shutdown without water
– timer
– thermostat
– sound signal cooking
---
See also: TOP 5 humidifiers for the winter.
---
Grill De'Longhi – from steaks to fried eggs
Grills – this commodity category dence in 2017 actively developed. Not surprisingly – the grill makes it possible to prepare a variety of dishes, and they turn out to be healthy, because you can not use oil (or quite a bit). Traditionally, it is believed that the grill is to cook meat, in particular steaks. But actually, you can cook anything on the grill. And the novelty of De'Longhi successfully confirms this.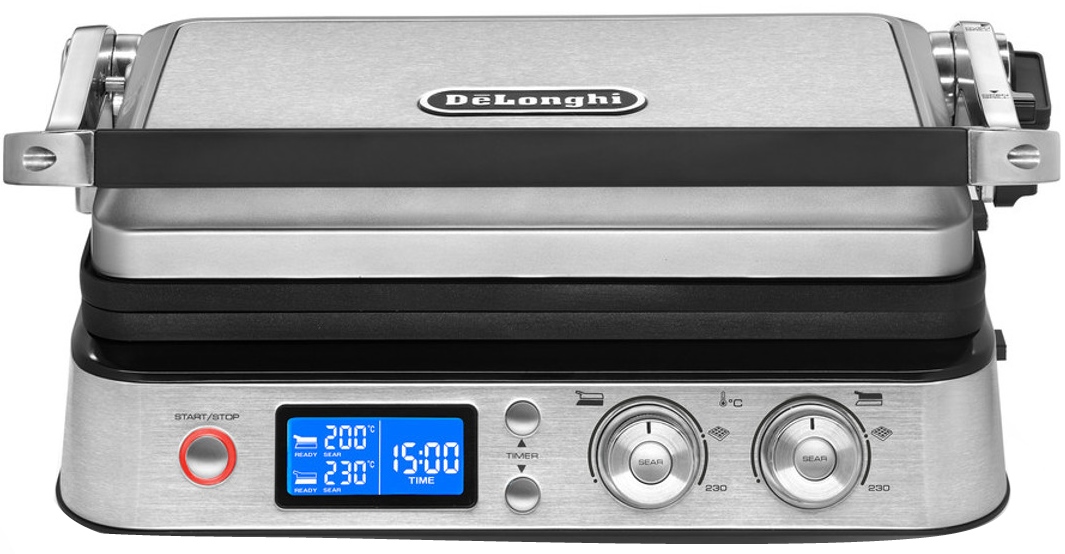 De'Longhi CGH1030D. The cost is 25,000 rubles
There are six removable plates of different types – three for each of the two heating surfaces (this is a two-way contact grill). All plates are non-stick coated. Such a variety allows you to cook steaks, burgers, poultry, fish, seafood, vegetables. Even fried eggs or waffles and fritters are all for this.
Electronic control, separate adjustment of the surface heating temperature, several positions of these surfaces, as well as a special mobile application with recipes for grilled dishes (and with the current grill settings) and cool design make De'Longhi CGH1030D a very visible HAZ-novelty in 2017. Welcome to our healthiest TOP. It is worth, however, expensive.
The main characteristics of De'Longhi CGH1030D:

– power 2000 W
– seven cooking modes
– electronic control, display
– SEAR function: for "sealing" meat
– the size of the surfaces for cooking: 37 × 23 cm
– a removable tray for grease
– mobile application
– automatic shutdown
---
See also: Five steep grills for a delicious steak. 19659023] Trends of the year
HLS-technology – this is perhaps the most actively developing in 2017 product segment among small households O devices. There are quite a lot of models aimed at people who lead a healthy lifestyle. Marketers follow the fashion, and the HLS in recent years is clearly in favor. In 2018, this trend will continue – the range of "healthy" equipment will expand.
---
See also: Top 5 best vacuum cleaners of 2017
---
Subscribe to our special channel about home appliances: tests, reviews, reportages from exhibitions. Expertly, not boring, objectively.